Homepage
Welcome Aboard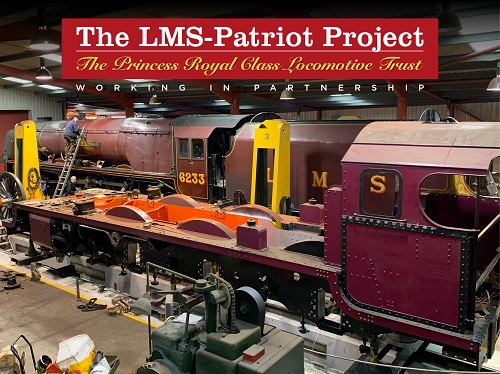 PLEASE SEE OUR JUNE 2020 MONTHLY BULLETIN IN 'LATEST PROJECT NEWS'. 
Our office premises in Stafford are closed because of the coronavirus emergency - we are working from home.
Please use the temporary postal address or telephone number at the foot of this page if you need to post something to us or to speak to us. We are still accessible by e-mail as usual at office@lms-patriot.org.uk or membership@lms-patriot.org.uk, or you can still use the Contact Us link and other services on this website
Our project aims
To build a new 'Patriot' steam locomotive to the original Sir Henry Fowler parallel boiler design, capable of running on the main line.
To create the new National Memorial Engine, named 'The Unknown Warrior'.
Help us achieve our aim with a donation, sponsorship or a loan.
The fact that none of the original 52 'Patriot' class locomotives was preserved leaves a massive gap in the story of LMS express power. A new 'Patriot' will provide the link between the 'Royal Scot' and 'Jubilee' classes and will clearly enhance the UK steam collection.
'The Unknown Warrior' will be the new National Memorial Engine and will be a unique contribution for Remembrance - a permanent memorial to all fallen servicemen and women.