Homepage
Welcome Aboard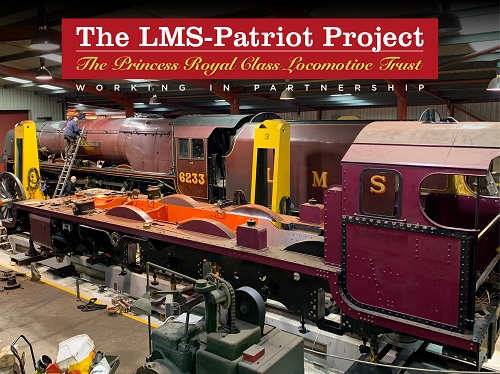 Please see our Monthly Bulletin for December 2021 under Latest project news
Our project aims
To build a new 'Patriot' steam locomotive to the original Sir Henry Fowler parallel boiler design, capable of running on the UK mainline railway.
To create the new National Memorial Engine, named 'The Unknown Warrior'.
Help us achieve our aim with a regular or one-off donation or sponsorship. If you wish to complete a direct debit form for a regular donation or to renew your membership then click on the large donate button
The fact that none of the original 52 'Patriot' class locomotives was preserved leaves a gap in the living story of LMS express power. A new 'Patriot' will provide the link between the surviving 'Royal Scot' and 'Jubilee' locomotives and will clearly enhance the UK steam preservation collection.
'The Unknown Warrior' will be the new National Memorial Engine and will be a unique contribution for Remembrance - a permanent memorial to all fallen servicemen and women.