Members' Open Weekend - 21st & 22nd September
Submitted by

alaws

on 6 September, 2019 - 13:36

Join us at the West Shed, at the Midland Railway - Butterley on Saturday 21st & Sunday 22nd September 2019 for our Members' Open Weekend and the Princess Royal Class Locomotive Trust 'Patrons & Friends of the Duchess Weekend'. 
All visitors are welcome to the open weekend, 
not only Members and Patrons,
 from 11am to 4pm at the West Shed. You will be able to see 5551 'The Unknown Warrior' inside the PRCLT workshops and hear about our latest plans and progress. 
Unlike in previous years where we have hired a private train, this year it is all based around the West Shed, so there is no charge for this event and friends and family are also welcome. Donations are of course welcome, especially with outgoings increasing at this very expensive part of the build.
Attractions at the West Shed
Stanier Pacific 46203 'Princess Margaret Rose'
Royal Saloon 45000 on display outside the West Shed
Opportunities to visit the footplate of 46203 and go inside Saloon 45000, which is currently displayed as  Churchill's D-Day planning train. 
(Unfortunately 6233 'Duchess of Sutherland' will NOT be present during the weekend as she will be stabled at Southall Depot in between her main line railtour duties).  
 Displays, live music (Saturday only), souvenir stalls, plus a hog roast, BBQ and cake stall at the West Shed.



While at the railway why not also visit the other attractions such as the Golden Valley Light Railway.
On Sunday 22nd only, Butterley Park Miniature Railway with its 5 inch and 31 inch raised track will be operating. The main railway is running both days and the Matthew Kirtley Hall will be open as well.
Visiting Information

Parking will be primarily at Butterley Station (DE5 3QZ) where you can catch a train to Swanwick Junction station (fare payable at Butterley station) and make the short walk to the West Shed.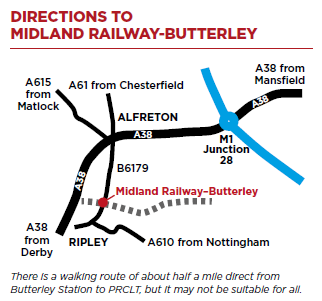 Or you can walk on a footpath from Butterley station to Swanwick Junction station (approx. half a mile over uneven ground - not suitable for people with limited mobility, wheelchairs, pushchairs, etc.). 
Train Times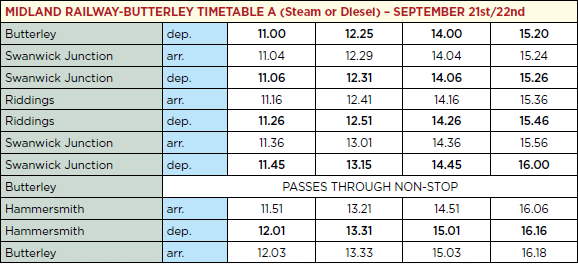 For further information and train fares please visit the
Midland Railway
website
[Click Here]
,
or phone 01773 570140. 
For more information about the
Princess Royal Class Locomotive Trust
please 
[Click Here]
.