Raising the pressure!
Submitted by

gav106

on 23 August, 2017 - 08:48
You will all be aware we received a setback when LNWR Heritage decided to end all sub-contract work meaning they would not be completing the construction of the boiler for The Unknown Warrior. At present we are working hard to find a new supplier but cannot say exactly when this will be, but it is likely be known in the next couple of months, therefore we need to ensure we have the funds available when the construction restarts. For that reason, we are launching our Raising the Pressure! appeal for funds dedicated to the completion of the boiler.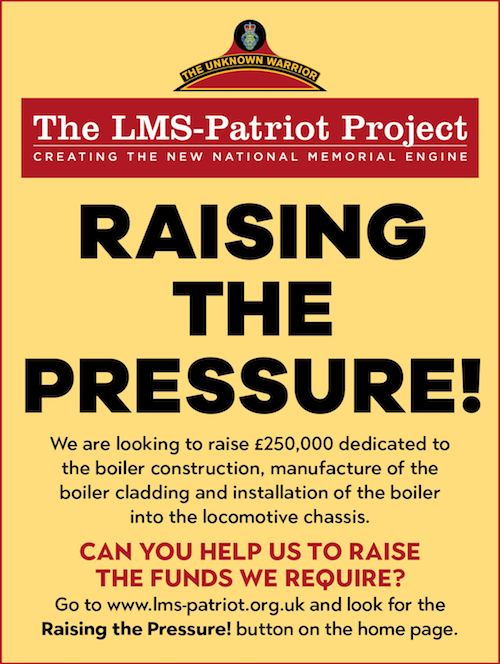 We are looking to raise £250,000 dedicated to the boiler construction, manufacture of the boiler cladding and installation of the boiler into the locomotive chassis.
Can you help us raise the funds we require?
You can make a donation (which will attract 25% Gift Aid if you are a UK taxpayer) or you can sponsor a specific boiler part such as Steel Stays at £7 each up to the Superheater Header Casting at £2,220 (see http://www.lms-patriot.org.uk/sponsorship for a full list).
Please send your donation to: Raising the Pressure! The LMS-Patriot Company Ltd., The Hub, 17 Eastgate Street, Stafford ST16 2LZ or to donate by card call the office on 01785 244156. You can also donate online at http://www.lms-patriot.org.uk/raising-the-pressure