Minute's Silence Held for Railway War Heroes
Submitted by

alaws

on 11 November, 2015 - 12:06
A minute's silence was held at Tyseley Loco Works at 11.00am today to mark Remembrance Day and to remember all of the Railway Employees who lost their lives fighting in The Great War over 100 Years ago, WW11 and in subsequent wars. Railway employees from locomotive sheds such as Tyseley near Birmingham gave up their jobs on the Railways to fight for their country, many of whom never returned.

The LMS-Patriot Project, the charitable organisation that is building the new National Memorial Engine, is keeping their memory alive by building a brand new 'Patriot' Class steam locomotive 'The Unknown Warrior'.
The in-progress £1.5 million steam locomotive is visiting Tyseley Loco Works for further assembly work when it will become a 4-6-0 for the first time after the bogie has been fitted.  The locomotive is being assembled from a multitude of parts many of which have been cast and machined in the West Midlands.

'The Unknown Warrior' will be completed for 2018 to commemorate the 100th Anniversary of the end of the Great War.

'The Unknown Warrior' was decorated with poppies and poppy ribbon for the Remembrance period and was on public display at the recent Tyseley Open Weekend on the 24th/25th October.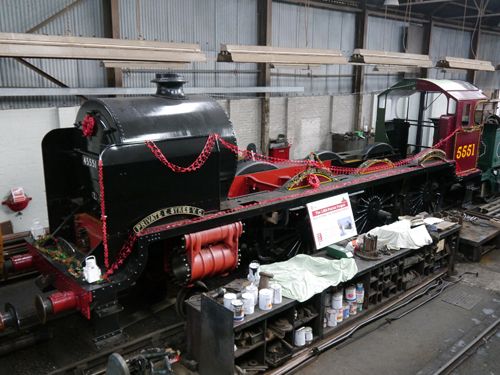 Photo by Andy Collinson/LMS-Patriot Project