£500,000 Appeal Launched for New Boiler
Submitted by

admin

on 1 May, 2012 - 15:04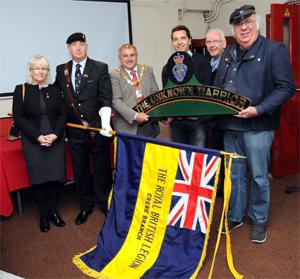 Pete Waterman, pop mogul, steam enthusiast and loco owner was present at the launch of a £500,000 appeal for the boiler for 'The Unknown Warrior' on 19th May at the LNWR Heritage Loco works. The all new parallel 'Fowler' boiler of traditional construction with a copper firebox has been commissioned by the LMS-Patriot Project, the charitable group who are building the new Royal British Legion endorsed National Memorial Engine - The design boiler will be of traditional design and will be assembled at LNWR Heritage Ltd at Crewe, the company founded by Pete Waterman.
Around £½ million pounds has already been raised to build 'The Unknown Warrior' and an appeal target of £500,000 to build the new boiler has been set. Around £30,000 has already been donated by Patriot Project Members for the copper for the firebox. If sufficient funds can be raised construction of the first part of the boiler will begin next year.

David Bradshaw, LMS-Patriot Project Chairman said, "LNWR Heritage will be building the biggest single item for 'The Unknown Warrior' – a brand new parallel boiler and we are confident that we will have 'The Unknown Warrior' steaming and on the mainline for 2018 if sufficient funds can be raised. Who would have thought that we would be building brand new standard gauge boilers in the UK over 50 years after the last one was built. Richard Watkins the chief boilersmith at LNWR Heritage will be leading this exciting new project and I am delighted that the LMS-Patriot Project has chosen LNWR Heritage to build the new boiler for 'The Unknown Warrior".
"I am therefore appealing to all steam enthusiasts to support the creation of the new boiler for 'The Unknown Warrior' and to send in their donations however large or small".
Chris Hughes, a regular contestant on BBC's Eggheads represented the LMS-Patriot Project at the 19th May launch at LNWR Heritage Crewe and explained that 40 of the 52 'Patriots' were built at the nearby Crewe Works and that it is entirely appropriate that the new boiler for 'The Unknown Warrior' should also be built at Crewe.

The event was also attended by the Mayor of Crewe Borough, Cllr. Roy Cartlidge, Edward Timpson MP, for Crewe and Nantwich, and Members of the Crewe Branch of The Royal British Legion.

'The Unknown Warrior' is expected to be in steam for 2018 - the 100th Anniversary of the Armistice which brought about the end of the Great War if enough money can be raised.